For a full video demonstration of the Syngrafii iinked Platform,




please watch the following video:

 Syngrafii iinked Platform Demonstration
When each document in a Package is completed and finalized, the Syngrafii application generates a MasterFile™ Audit Trail which includes all the information of the fully executed Package for non-repudiation and audit reasons.
The MasterFile Audit Trail consists of various sections.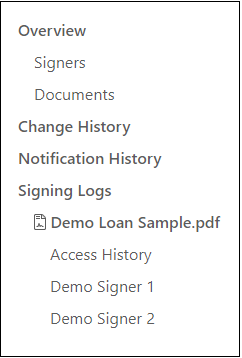 Overview - This gives a summary of the Package created which includes who created the Package and when was it created, types of signatures and initials added and the number of text boxes and images added.


Signers - List of signers in the Package


Documents - List of documents in the Package and an option to view them.


Change History - List of changes made to the Package with the date and time stamps of each change.


Notification History - All the notifications sent from the system from the creation of the Package to when it was completed. It also shows the devices used to open and read the notifications along with IP addresses.


Signing Logs - This provides detailed information of everything that happened during the signing of a document: geolocations of all the signers, how and when was the document accessed and signed.


Document Information - Number of pages, size of the document, created and executed date and time stamps.


Access History - This has all the access information for all the signers, geolocation of where the document was accessed from with a location on the map and the address if applicable.


Detailed Signer Information - This section provides information about individual signers: where they opened the document from, how long the document was open for, their geolocation and local address (if shared), IP address, what kinds of signatures and initials were added, what device was used to sign the document and identification images added to the document if applicable.


Meetings (only in VSR) - In a VSR Package, if the meeting was recorded, the MasterFile would also include a Meetings section, providing information about how long the meeting was recorded, along with the date and time. You can also view the meeting by clicking on the View button.


Clicking on the View button navigates to the Meetings page.
The meetings page includes:

Summary of the recorded session


Video Stream


Chat History - also includes event logs with timestamps

iinked Identity™ Verification (IDV) MasterFile Details
In addition to the above information, if identity verification was enabled on a Package, additional details will be included in the MasterFile.